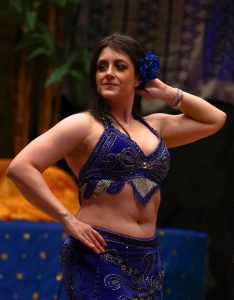 Annissa started belly dancing in 2000 to make new friends and get some exercise after moving to Tacoma, Washington. That first step led to an exploration of many different belly dance styles (cabaret, oriental, Egyptian, and tribal fusion to name a few) and turned into a passion for this beautiful dance form. She now shares her knowledge by teaching classes in Regina, Saskatchewan since 2016.
She is continually learning by attending workshops and classes with authentic instructors, and just recently certified as a SharQui – the Bellydance Workout instructor.
Annissa is a founding member and principal choreographer for Br'Issah. Formed in 2009, Br'Issah is a quartet of dancers from Regina who enjoy sharing their love of belly dance by experimenting with eclectic music to create innovative and evocative choreographies. She is also a member of Raks Azhar Dance Troupe.
Annissa has filled several positions as a Board Member of the Regina Association of Middle Eastern Dance (RAMED) which is a non-profit organization established to promote and increase public awareness and acceptance of Middle Eastern dance.